The Center for Technology Commercialization hosted the Wisconsin Artificial Intelligence Summit February 8th and 9th at Cream City Labs in Milwaukee on the first day and virtually on the second. The Wisconsin AI Summit was co-hosted by the Northwestern Mutual Data Science Institute in a partnership that shares a mutual mission to convene opportunities and bring thought leaders together to share, inspire, and work together to get smart data solutions commercialized.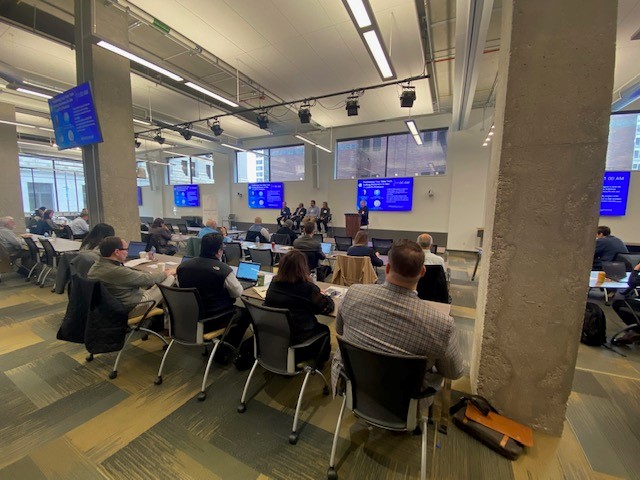 During the event, various panels of experts ranging from state, federal and military AI and ML discussed emerging needs, resources, and challenges for smart data products in their ecosystems. Companies and early-stage teams were also given the opportunity to network with leaders at NMDSI, Connected Systems Institute, Kairos and federal agencies including HHS, NSF, NIH and DOD.
"It is our hope that our attendees will engage with the panelists to spark further dialog, develop use-cases for product development and commercialization, as well as discovering opportunities for funding," said Jonathan Stark, Executive Director of Northwestern Mutual Data Science Institute. "The ways in which regional small businesses, as an example, have access to or the ability to leverage the power of AI vary. This event is to showcase what may be possible."
Stark also highlighted the event's location as an ideal spot to have experts gather for this conversation.
"Milwaukee is the obvious choice for hosting this AI summit," said Stark. "We are home to longstanding industry leading firms, stellar academic institutions, and with significant investments being made at all levels to harness our regional experts who share the mission for leveraging the power of data science and AI for greater collective societal impact."
This local impact draws individuals in the community to connect and make new partnerships. Kael Hanson, president and CEO of Navigationis in Waunakee Wisconsin and professor of physics at UW Madison, was one of the panelists on Wednesday's in-person event. Hanson is currently pursuing SBIR funding for his small business. The people that he meets during events like this AI and SBIR summit are what drew him to attend, said Hanson.
"The reason I wanted to come here specifically is that there would be local people that are interested in the same things that my company is interested in," said Hanson. "I'm looking for the connections right now and trying to get an understanding of who's out there and what they're doing. We're a small company and I'm trying to accrete talent so that I can position myself for phase two funding."
As a panelist, a key point that Hanson wanted to share with the audience was that the Department of Defense wants SBIR funded companies to have a solid commercialization plan because it's a risk to them if they're your only customer, said Hanson.
Another panelist, Carol Hirschmugl, CEO and co-inventor and founder of COnovate and professor of physics at UW Milwaukee, has raised over 5.5 million dollars in SBIR grants.
"I worked closely with CTC through many of those grant opportunities," said Hirschmugl. "Machine learning is super critical to our pathway to commercialization and both of those things made it important for me to be here in the room today."
"There are many different ways to think about machine learning," said Hirschmugl. "It's either to be used as a tool, or to develop it. All the institutions that we can get federal funding from across the government are quite different in how they approach the grant opportunities. Some are very targeted, and some are very open to what they're looking for. It takes a village to implement and develop the company if you're an academic trying to think about going into this arena. It's a big commitment, but it's worth it."
Even as a panelist, Hirschmugl was able to walk away with new information and connections. A notable new connection that she mentioned was with members of the Wisconsin Air National Guard's Innovation Spark Cell called ForwardWERX.
ForwardWERX works in alignment with the AFWERX model to find and create innovative technology in the United States Air Force. Col. Adria Zuccaro, commander of the 128th Air Refueling Wing in Milwaukee, was also in attendance to encourage people with eligible technology to reach out to their local National Guard representatives in collaboration.
Attendees of the event ranged from nurses with no background in AI who are interested in how AI/ML technologies can fit into and improve their work environment, to professors and graduate students looking to commercialize their ideas. Many entrepreneurs from small businesses were in attendance as well as representatives of large organizations.
One attendee, Jaspreet Singh, a data scientist for Navy Federal Credit Union, initially attended with an interest in AI technologies, but walked away with an interest in the SBIR program and CTC's opportunities.
"Navy Federal is going through a huge transformation," said Singh. "And I wanted to understand what kind of use cases we can create for our members using AI and machine learning, especially in real estate lending. I'm interested in how AI is being used to make some predictive behavior. For example, in underwriting and processing you can auto-approve someone, and this can save a lot of dollars."
Like most attending, Singh was surprised to learn about the programs and assistance offered by the CTC.
"My goal was to learn more about AI and ML and their use cases," said Singh. "But I think the SBIR program at CTC is very eye opening for me. There are certain resources that are available, and you can create your own organization if you have some ideas, and the CTC will assist you."
The CTC hosts many diverse events throughout the year to assist applicants of SBIR and STTR funding. The next level of linking AI with public sector funding is to participate in their SBIR Ready program. To participate in this paid proposal accelerator, watch the CTC website for applications. Letters of interest are currently open.
The CTC will also host follow-up events and resources to continue working together to get smart data solutions commercialized. Additional events include pitch events, one-on-ones, webinars, workshops and more. Stay informed about upcoming innovation programming, funding and events by signing up for the monthly newsletter – https://wisconsinctc.org/learning-opportunities/newsletter/
To learn more about the CTC and their opportunities click here.
About the Federal and State Technology funding program
FAST seeks to improve outcomes in the Small Business Innovation Research (SBIR) and Small Business Technology Transfer (STTR) Programs for underserved communities by increasing participation from women-owned, rural-based and socially or economically disadvantaged small businesses.
About Center for Technology Commercialization
The Center for Technology Commercialization is part of the University of Wisconsin System's Institute for Business & Entrepreneurship. CTC provides one-on-one expert consulting to early-stage emerging technology businesses throughout Wisconsin. CTC has collaborated in acquiring more than $100 million in federal and other funding for clients.
Are You "SBIR Ready"?
SBIR Ready is a PAID workshop series designed to help small businesses access the changing landscape of programming & innovation funding now accessible through various agencies' SBIR/STTR programs. Complete a brief Letter of Interest to receive program information as soon as it is available. Letter of interest due March 1st.