What is the SBIR/STTR Program?
The Small Business Innovation Research (SBIR) and Small Business Technology Transfer (STTR) programs are highly competitive programs that encourage domestic small businesses to engage in Federal Research/Research and Development (R/R&D) with the potential for commercialization. Through a competitive awards-based program, SBIR and STTR enable small businesses to explore their technological potential and provide the incentive to profit from its commercialization.
SBIR Phase I
Concept Phase awards up to $256,000
SBIR Phase II
R&D Phase awards up to $1,500,000
SBIR Phase III
Commercialization
The SBIR/STTR site offers general information about the history and background of the program, lists Open and Closed Solicitations, and provides a searchable database of all award winners by state.
Why Should I Consider SBIR/STTR Funding?
Dr. Todd Strother answers the questions "Why SBIR" in one of his bi-weekly installments of Tips From Todd.
---
What is Innovation?
Tips from Todd walks you through what funding agencies define as innovation. Find out if and how your idea fits and could be considered for an SBIR. Evolutionary or Revolutionary? Chance of technical failure? What are federal funding agencies looking for? Find out in Tips from Todd Episode 4, Part 1 and 2!
Am I Eligible for the SBIR/STTR Program?
SBIR grant applicants have to meet certain criteria for acceptance. Find out what they are from this espisode of Tips from Todd. (What Todd is doing with the feathers?!)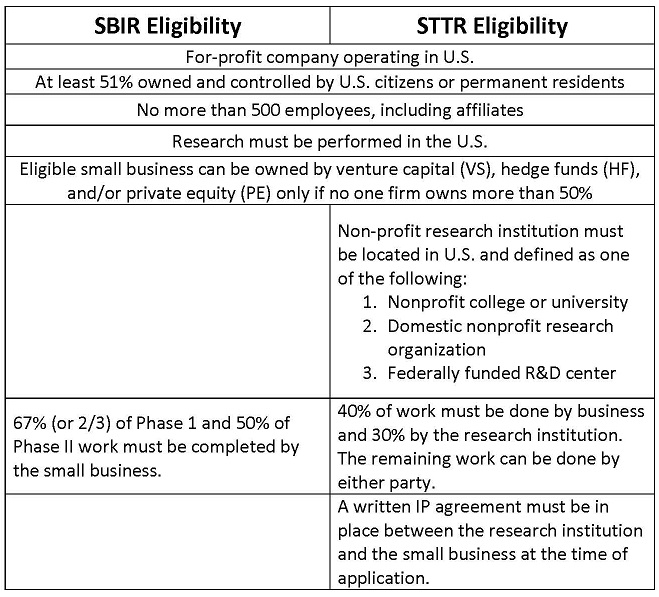 Tips from Todd is back in the woods to tell you about feasibility for SBIR Phase 1, and overall product feasibility. Learn about some tips and tricks to determine feasibility (and finally learn what the feathers were for) in this episode. Contact CTC for help with a Project Pitch!
When Are Application Deadlines?
Use this calendar as a guide to aid you in your funding strategy. You may, and should, consider multiple agencies as potential funding sources. Search all open topics across all agencies here.
What do I do next?
The Center for Technology Commercialization's is Wisconsin's no-cost resource to guide you through the complex and exciting journey of bringing your technology from idea to market. The journey includes helping you connect to funding and guidance from experienced business leaders. We are Wisconsin's guides for the SBIR/STTR Program.
Explore more of CTC's Thought Leader Content