2023 Cohort dates announced
WEDC supported SBIR Ready is a PAID workshop series designed to help established small businesses access the changing landscape of programming & innovation funding through the SBIR/STTR Program.
SBIR Ready provides the lift you need to partner, propose and win non-dilutive funding for developing and integrating technology.
Who is Eligible?
SBIR Ready is ideal for existing or emerging Wisconsin small businesses interested in:
Developing novel intellectual property from technologies such as those in the National Science Foundation SBIR portfolio including:

advanced materials; biomedical and biologics technologies; chemical technologies; energy and power management technologies; cybersecurity and authentication; AI/ML; AR/VR; distributed ledger; robotics, cloud and high-performance computing, internet of things

Applying your core technical capabilities into products and services that meet Air Force Operational Imperatives including but not limited to:

artificial intelligence/machine learning (AI/ML); data analysis from diverse sources; augmented/virtual reality (AR/VR); communication capabilities; information technology/operational technology (IT/OT) interfaces; and human health performance technology
Eligible applicants are a Wisconsin business or plan to be a Wisconsin business with the majority of their planned operations in Wisconsin. An eligible business is a small business with an innovative technology pursuing product development and R&D.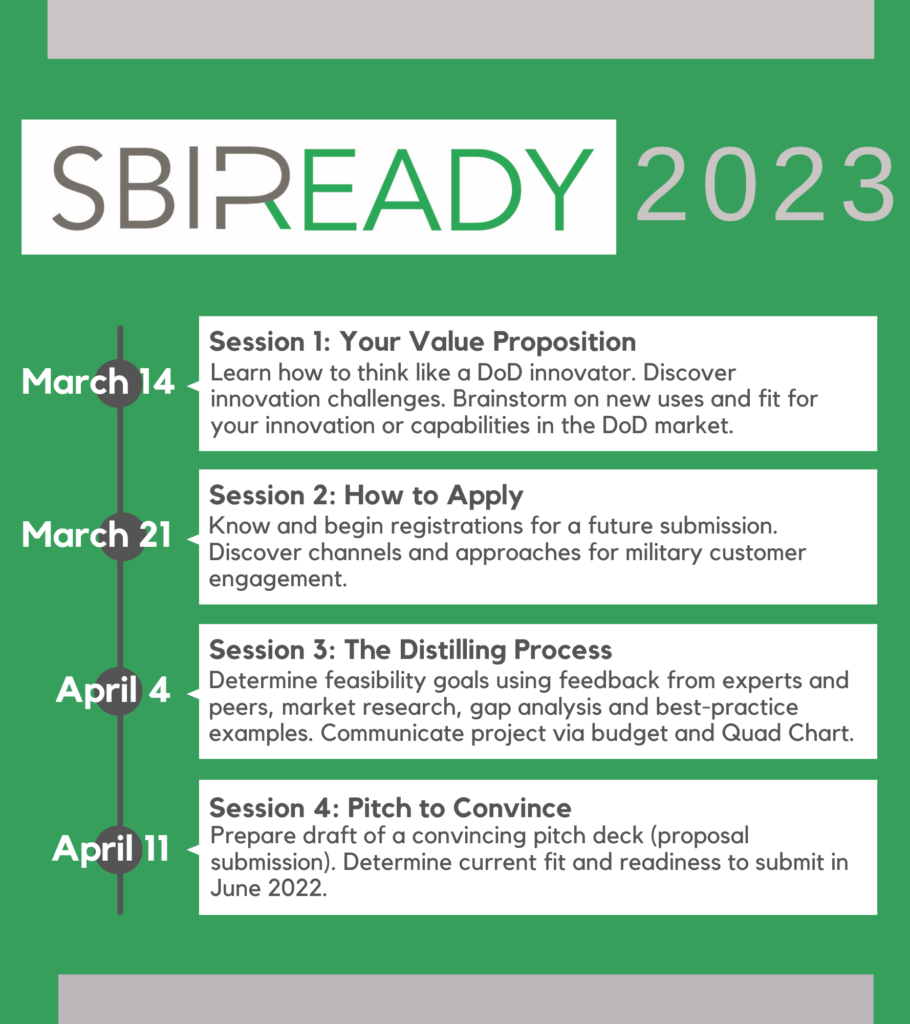 ---
Program Outline:
The Federal Small Business Innovation Research (SBIR) program funds product development by investing at the earliest and riskiest stages of research and development (R&D). This writing accelerator focuses on the more than $2 billion available through the Department of Defense (DoD) SBIR program and emphasizes the Air Force open topics application process. Leverage this accelerator to develop the core components to any SBIR submission including the National Science Foundation (NSF), Department of Energy (DOE) and DOD. SBIR Ready awardees who fully complete all SBIR prep deliverables are eligible for $1500 micro-award and can apply that towards an additional $3000 grant to hire a CTC qualified grant consultant to complete an SBIR submission. For example technologies and product areas aligned with SBIR funding, visit the NSF SBIR portfolio site.
Request a Meeting
Need help navigating the process? Request a meeting with one of our consultants.
Learn more about the DoD SBIR/STTR Program