The Center for Technology Commercialization partnered with the University of Milwaukee's Lubar Entrepreneur Center to provide a free training workshop for members of the Wisconsin Air National Guard.
Educating airmen on ways to facilitate brainstorming sessions with open communication will not only help them in their everyday challenges on the job, but also spark an ability to communicate effectively with local small businesses and researchers who are trying to solve larger military issues.
"One of the goals in our processes is to get more people speaking a common language so that they can become change agents inside their organizations," said Brian Thompson, president of the UWM Research Foundation, Inc., and director of the Lubar Entrepreneurship Center. "Finding out how to create change in an organization is a slow process, it takes time and commitment. Our workshops will help groups toward that end."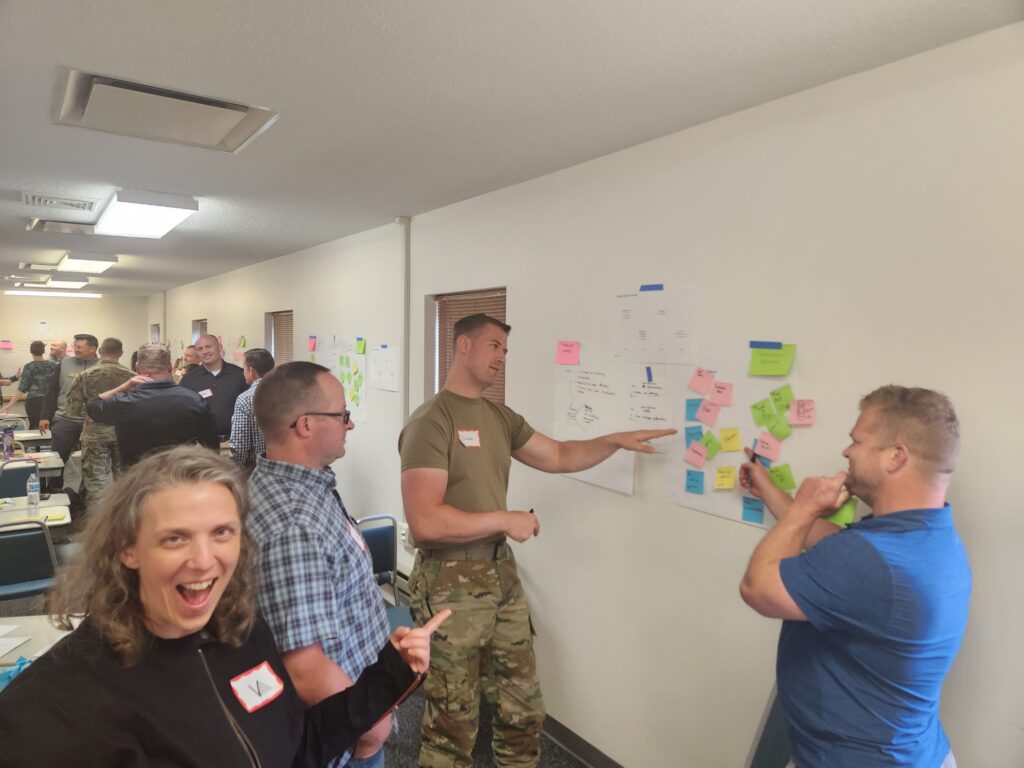 The style of brainstorming and communicating at the focus of this workshop is a crash course in the Design Thinking approach to problem solving.
Design Thinking is a process to help better understand the user and the problem so you can design better solutions. In this instance, the goal is to offer airmen some innovative tools to make their jobs better, said Thompson.
One of the airmen excited to implement her new knowledge is Air Force Tech. Sgt. Chariann Agee, aviation resource manager for the 176th Fighter Squadron. Her interest in attending the workshop comes from a drive to think outside of the box and learn how to do a better job of doing a better job, said Agee.
One of the most valuable pieces of information Agee took away from the workshop was the "Yes, and" method when brainstorming. She plans to utilize this "no negativity" strategy to make her office more collaborative, said Agee.
"I plan on bringing this back to my office because we're just getting the Squadron Aviation Resource Management position up here at Volk Field" said Agee. "However, we're starting from scratch and having to brainstorm and give them the license to build their own perimeters."
Change is a regular and necessary part of the military, but like any organization with rigid regulations, change is a challenge.
"I would absolutely recommend this for people who aren't even thinking about going," said Agee. "If we implemented something like this, I think we'd move a lot more solutions forward. We'd pivot about work a lot more easily. We'd be more flexible. We'd probably be ahead."
The LEC and CTC understand the drive to adapt to changes get ahead and hope to facilitate more collaboration in the future.
"We have a series of programming through the Lubar Entrepreneurship Center and we welcome community members and partners to those," said Thompson. "People here have been asking me how they get members of their team to see or use these sorts of processes. I think this is an opportunity there for CTC and LEC to come together on this and connect more people." said Thompson.