Call it a thankless task, but a few months ago, I decided it would be a good idea to create a table of currently active Wisconsin accelerator-like programs.
Why?
Well, the main reason is the CTC offers three entrepreneurship training and readiness programs. We are often asked about other funded programs as our participants try to identify more steppingstones for their path to commercialization. I felt myself giving the same answers and wondered if my repertoire was complete and up to date.
I know others in the Wisconsin entrepreneurship ecosystem have done this before. And that the landscape is very dynamic. My table will simply be a snapshot at this moment in time.
With that understanding, here it goes…
Methods: Compiling the Table. I include this paragraph to indulge 'sciencey' readers. If you just want to get to the point, skip ahead. To avoid reinventing the wheel, I did some online investigating and found articles and search tools such as 24 Best Startup Accelerators & Incubators in Milwaukee (2022), 24 Best Startup Accelerators & Incubators in Madison (2022), 5 Successful Accelerators and Incubators in Wisconsin, the F6S growth company community, Start In Wisconsin and others. After methodically sifting through all of these, I eliminated things that were clearly outside the scope of this project – hubs, networking groups, and incubators. That still left a long list of training and accelerator-like programs to sort out. This meant deeper dives into program websites, and emails and phone calls with lots of program managers.
The Table. When all was said and done, things fell into two buckets – programs with funds for participants and programs without them. As I mentioned earlier, this task was driven by clients asking about funded options, so that is the focus here. In the end, I came up with the following table featuring 13 programs that range in funding from $1,000 to more than $100,000. On the left are six programs that provide up to $5,000 in stipends and grants and are primarily aimed at validation of ideas and product-market fit. Listed in the next tier to the right are three idea and market validation programs with funds ranging from $10,000 to $30,000, some of which are tied to accomplishment of course and commercial milestones. Moving farther to the right are investor and commercialization readiness programs with more significant amounts of money in the form of seed and gap funds. More details about all of these programs along with my best attempt at a programming calendar can be found here.
Wisconsin Entrepreneurship Programs with Funds for Participants
(pre-accelerators, accelerators, and other similar programs)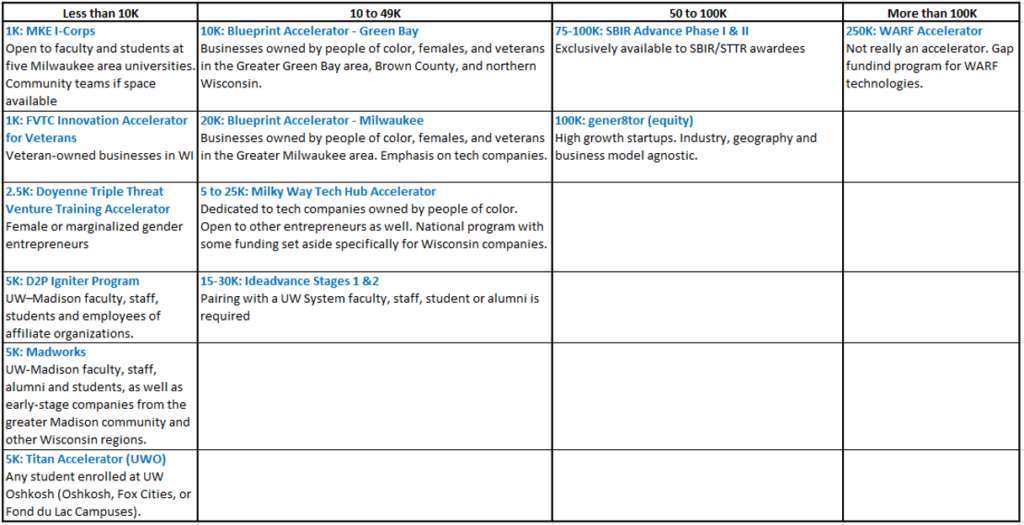 Observations. Hopefully, this table is useful at face value for entrepreneurs who are focused on logical and useful next steps in their commercialization journey. However, others in the entrepreneurial ecosystem might want to slice and dice the data further. For example, I would argue that only two of these programs – gener8tor and CTC's SBIR Advance – are truly agnostic of the target population served and required or preferred association with academic institutions. And SBIR Advance is a pretty exclusive club that is available only to those companies that have received Federal Small Business Innovation Research (SBIR/STTR) awards. You might also look at this table and wonder if our state has enough steppingstones with funding for companies in all stages along the pathway.
Gaps and Wishes. While gathering information, I asked ten program leaders about voids they see in the Wisconsin entrepreneurial ecosystem. Among the wide variety of responses, there were some common themes. One theme is related to resources. More specifically, finding the right resources at the right time. Entrepreneurs often go down rabbit holes when looking for programs they qualify for and are actually good fits for their stage of development. A second theme program leaders identified is a gap between unfunded and underfunded programs for early stage companies to validate product-market fit and programs and incubators geared for later stage companies that are ready for scaling and investors. Lastly, a void in startup talent was identified as a third gap. We have ideas and technologies, but we don't have enough people with relevant business acumen to move them to market.
Other Entrepreneur and Venture Development Programs. Of course, Wisconsin has many other great programs that span from ideation to business model development to customer acquisition to scaling. We often work with entrepreneurs who have had the benefit of participating in these programs, and we often refer clients to them. A snapshot of these programs can be found here.
Finally, I will also make a disclaimer that it's likely I didn't capture everything. I welcome additions, corrections and updates. Feel free to email me: .
Looking for Wisconsin resources and connections? Check out Start In Wisconsin. This online directory features business and networking resources and a searchable calendar of entrepreneur-focused events and programming. Start In Wisconsin is a collaboration between the Wisconsin Economic Development Corporation (WEDC), local entrepreneur support organizations and the UW System Institute for Business and Entrepreneurship.