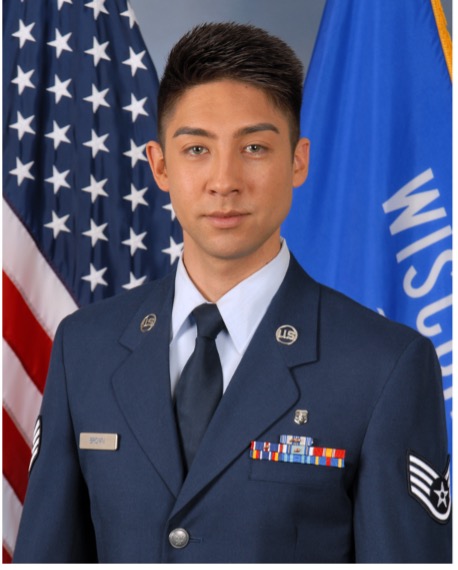 ForwardWerx and the CTC are partnering to support innovation funding that will enhance mission-specific needs with the WI Air National Guard and beyond. Meet Sgt. Brown who is leading efforts at the 115th to engage businesses, researchers and the Guard members in these new initiatives. Stay tuned to the CTC newsletter and social media for upcoming programing to engage.
Tell us about your service with the WI Air National Guard.
I have served in the WI Air National Guard since 2010. I have spent the majority of that time as an Aerospace Combat Medic in the Chemical, Biological, Radiological, Nuclear, and high-yield Explosive Enhanced Response Force Package (CERF-P) detachment. I currently serve as an Equal Opportunity advisor to the 115th Fighter Wing Commander.
Tell us about the diverse missions with the WI Air National Guard.
State Missions include: Domestic Operations, Natural Disaster Response, and Counter Drug Operations

Federal Mission includes: Anti-terrorism Operations, Humanitarian Missions, and Contingency Operations
Tell us why innovation matters to the Wi Air National Guard.
Defense innovation is vital to the security of Wisconsin and the United States. The technological advances of the military provide enormous benefits to society and the economy at large. The Military's network built out what would become the internet, created the basis for popular artificial intelligences and continues to push advancements in medicine. If the U.S. military, specifically the WI Air National Guard fails to accelerate change, the country's ability to maintain or continue these technological advances will be in danger.
What is ForwardWerx and what activities can we expect?
ForwardWERX is designed to solve operational problems by collaborating with government, industry, and academia through a deliberate human-centered enterprise. Our goal with stakeholders is to quickly design and develop creative solutions that solve problems for the Airmen/Guardians who need them the most. ForwardWERX is expanding technology, talent, and partnerships through dynamic commercial and military realizations.
Where do we go to stay up to date on programs and funding opportunities?
Thank you for asking, we recently launched our social media accounts and our website will be going live soon. Please like and follow for future information.
Instagram @ForwardWERX
Twitter @ForwardWERX
Facebook @ForwardWERX