Last week NSF released FY23 SBIR/STTR solicitations, with $85 million budgeted for Phase I awards alone. The current submission window closes March 1, 2023.
FY23 Phase I SBIR/STTR Solicitation
With the NSF SBIR/STTR program small businesses can get up to $2 million to develop deep technologies.
"The NSF SBIR/STTR program supports moving scientific excellence and technological innovation from the lab to the market. By funding startups and small businesses, NSF hopes to build a strong national economy and stimulate the creation of novel products, services, and solutions in the private sector with potential for broad impact; strengthen the role of small business in meeting federal research and development needs; increase the commercial application of federally supported research results; and develop and increase the US workforce, especially by fostering and encouraging participation by socially and economically disadvantaged and women-owned small."
Consider these steps while determining if the NSF SBIR/STTR program is a fit for your small business.
Fundable topic areas are listed below.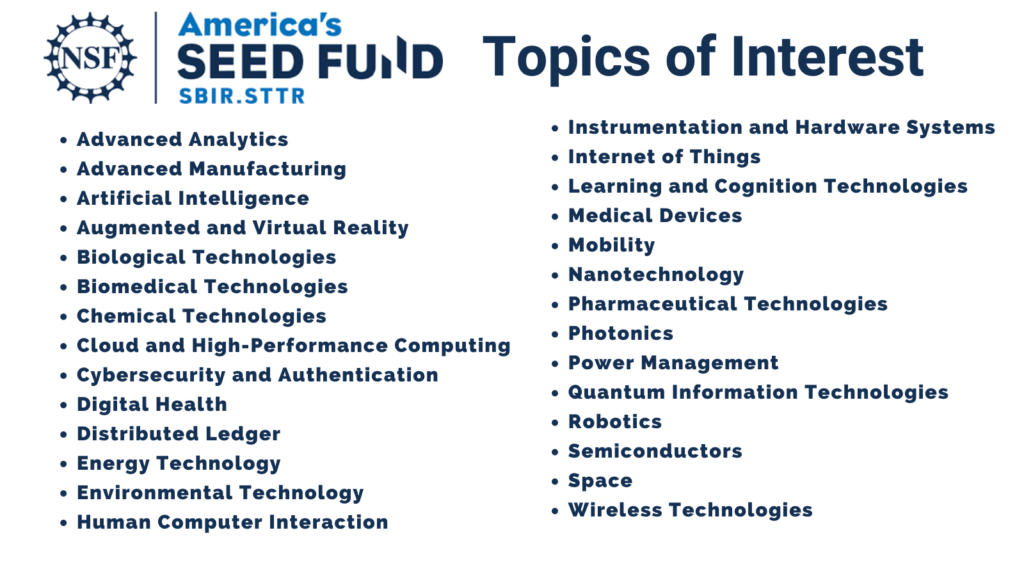 Center for the Technology Commercialization (CTC), powered by UW-System, WEDC and the SBA, is Wisconsin's no-cost SBIR/STTR resource. Providing guidance, strategy and funding for Wisconsin small businesses has been our business since 2005.